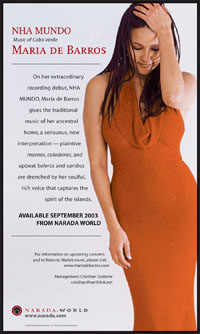 She uses colorful descriptions like "hospitable," "peaceful," "family oriented" and "hard work ethic" to describe her ancestral home, but it's the island's incredible melting pot of music--which includes everything from African and Portuguese to Argentinean and Cuban influences--that has always inspired her to set her heart on home.


de Barros is also the god-daughter of five-time world music Grammy nominee Cesaria Evora, the internationally renowned "barefoot diva" and global ambassador for Cape Verdean music. Evora is known as the queen of mornas, a very traditional music form. Evora's ongoing encouragement led de Barros to fashion, with the help of Argentine producer Daniel Luchansky and Cape Verdean co-producers Djim Job and Kalu Monteiro, a fresh, contemporary work featuring the more lively and optimistic side of modern Cape Verdean music.


"The title song talks about where I'm from, and it's my hope that everyone who listens feels that I've brought them into my world as a special guest," she says. "It's a happy, fun world. While Cape Verdean artists have sung of the struggles of life in the islands, my childhood was wonderful and I want to show that positive side of life in Cabo Verde. My songs speak of yearning for home, of an immigrant returning with hope, going back to the homeland to contribute to its growth. The only song written on a different theme is 'Nao Nhu,' which offers strength and encouragement to women.


"Sung mostly in the dialect of Portuguese "Criolu," the 12 songs on Nha Mundo draw from the many styles that became indigenous to Cabo Verde over the centuries. "DjaBraba Nha Terra Natal" and "Triste Gonia" are mornas (equivalent to the American blues) written by her grandfather, Djedjinho; "Riberonzinha" and "Nha Primero Lar" are slow coladeiras, while "Cabo Verde N'ot Era," "Regresa," "Mi Nada Um Ca Tem, "So Um Melodia" and "Nha Mundo" are midtempo and uptempo coladeiras (like Salsa); "La Gloria Eres Tu" is an old Cuban bolero, "Nao Nhu" a samba and "Manha de Carnaval" a Brazilian bolero.

"Music of the world infiltrated Cabo Verde after the Portuguese discovered the islands in the 1400's," says de Barros. "The African influence came there during the slave trade, while over time people from other parts of the world settled there and brought along their musical influences."


On how she developed her love for music, de Barros says: "I remember as a child, my mother would sing beautiful Cape Verdean songs to us kids. I would sing along with her and felt something magical within me.


"The oldest of five kids, de Barros moved with her family as a teenager to Providence, Rhode Island, where her grandparents lived. At the time, New England had many communities of transplants from Cabo Verde, and the teen singer performed with many bands featuring members from the homeland. Later, de Barros got married and moved to Los Angeles, which exposed her to a potpourri of rhythms thus enriching her musical experience. In Los Angeles, de Barros developed a love for Latin music and soon thereafter started to sing in Spanish, one of the six languages that de Barros speaks. At the same time, de Barros continued to perform on both coasts with old and new Cape Verdean musicians.


de Barros believes that the purpose of her music is to touch lives and see the smiles on the faces of her listeners when she is performing live. "It is my hope and sincere wish to expose people to the sensuality and joie de vivre that is the foundation of Cape Verdean life."
You can find more information about Maria de Barros on her website at http://www.mariadebarros.com
You can also e-mail the producers of the show: Tony Pretzello at: tony@radiogetswild.com and Jakob Nielsen at:jakob@radiogetswild.com

IF you are an artist and you would like to be featured on the show please read: How To Get On The Show