Parodi/Fair first moved into feature-length films in 1998 with Rysher Films' The 18th Angel (starring Rachel Lee Cook and Stanley Tucci). The beauty and strength of the film's score shouldn't surprise anyone accustomed to Parodi and Fair's music for dramatic series - this year's critically acclaimed "The Division" (starring Bonnie Bedelia) on Lifetime - and the vital and diverse scope of their movie trailers. Originally known for an impressive array of Hollywood's most visible trailers, from Goldeneye and I Am Sam, to Spy Game and John Q, Parodi/Fair have crossed over into feature films. "Scoring for film is a discovery process," says Parodi. "The best thing is to hold on to that first gut feeling you have about a film, and then allow yourself to discover the deeper meaning of each scene."
Born in Los Angeles, California, Parodi is a classically trained composer/musician. She has studied at the prestigious Interlochen Arts Academy in Michigan, the Ecole Normale de Musique in Paris, UCLA , and with experimental synthesist/composer Dr. Edith Smith.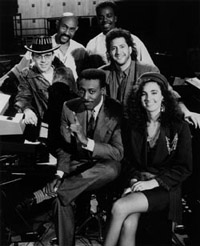 It is Starr Parodi's work with the Arsenio Hall Show as part of the show's dynamic house band The Posse that garnered the young keyboardist early recognition for her cool demeanor and talent for spicy funk grooves. During her career Starr's talents have been sought after often to accompany such artists as Seal, Carlos Santana, BB King, Celine Dion, Al Green, Mavis Staples, Jimmy Cliff, Phil Collins & Patti LaBelle among many others. In 1993 she was asked to play piano at the Kennedy Center for the inauguration of President Clinton, and in 1995 she also performed at Keyboard Magazines' 20th Anniversary concert in which 20 of today's top keyboardists were invited to play. Parodi recorded her own critically acclaimed solo album Change which was released in 1992 and embraced her love of jazz, Afro-pop, and soul.
After growing up playing woodwinds and brass in Pacific Northwest area youth orchestras, Fair studied bass and composition at the Cornish Institute where he became active in Seattle's pre-grunge recording scene. Shortly after finishing his studies, Jeff was invited to join George Howard in Los Angeles for the recording and pre-production of two of his #1 albums. Jeff met Starr backstage at the Universal Amphitheatre in Los Angeles when she was touring with Howard. They didn't meet again until months later ("She invited me for lunch, I invited her to dinner," says Fair). In a starry-eyed tale that merits its own movie, they were engaged one week later.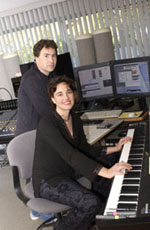 Their passion is apparent in their collaborative work as composers. Gifted in the use of vocals, unusual samples and instrumentation, the team's facility with a multitude of instruments and styles allows them to feel at home in the worlds of traditional and non traditional film scores. They delight in taking risks to find the perfect textures for each project, from sampling field tapes of South Pacific log drummers to creating symphonic tone poems reminiscent of modern classical/impressionistic composers.
"Most films are about relationships in one form or another," says Parodi. "We often draw upon the various aspects of our relationship for additional musical insight." Fair also believes that the male-female aspect of their partnership in a male-dominated field gives the team a certain edge. "As a woman, Starr adds a fresh perspective to the music," explains Fair. "I think directors respect her ability to find the feminine side of certain characters that might otherwise be overlooked."
"I'm convinced that you must be original to make your way," says Parodi. "Jeff and I are not afraid to be quirky, mysterious, romantic and melodic. And we hope our music reflects all of that, and more.
You can find more information about Starr Parodi and Jeff Fair on their website at http://www.parodifair.com
You can also e-mail the producers of the show: Tony Pretzello at: tony@radiogetswild.com and Jakob Nielsen at:jakob@radiogetswild.com

IF you are an artist and you would like to be featured on the show please read: How To Get On The Show