Ron Jones lives and works as a professional composer in Los Angeles, California. He has scored projects from Television, Film, Records, Symphony Orchestra, Chamber Groups, Choirs, New Media and Games as well as many other types of scoring. Some of the most popular projects Ron Jones has scored are Star Trek: The Next Generation, Duck Tales, Family Guy. His Theme for The Fairly Oddparents for the smash series by Nickelodeon has rated number one in the ratings world-wide and has been awarded two BMI TV and Film Awards. He received an Emmy Nomination in 2000 for Best Song for work done for Fox Television's series, Family Guy. While specializing in TV and Film scoring, Ron continues to seek out new areas for creative work. Ron has scored Two Games for Interplay. The score for one of them, Starfleet Academy was nominated for an Interactive Arts and Sciences award for best sound and music.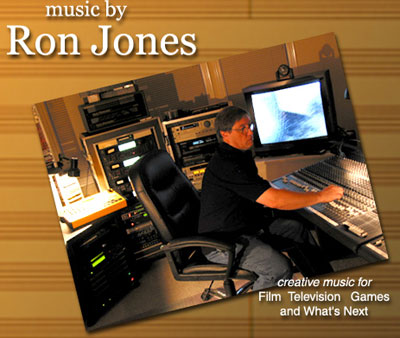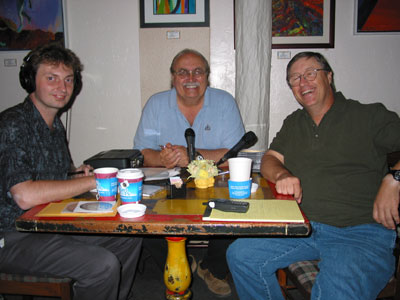 Photo from the interview with Ron Jones at Lulu's Beehive, Studio City, California.
In addition to his degree in music composition, Ron studied with Dick Grove and was Protege' to Lalo Schifrin. His early scoring with Hoyt Curtin at Hanna-Barbera and later with Mike Post helped Ron to understand the art and craft of Film and TV scoring as he worked under these masters.There are many records and soundtrack releases by Ron and audiences hear his work around the planet every hour and day of the year. He has taught at both the graduate and undergraduate college level and is a guest lecturer on the subject of scoring and creativity.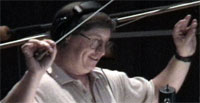 Ron looks forward to the joy and struggles of each new project. He lives in Los Angeles with his wife Laree and son, Nathan.
You can find more information about Ron Jones by visiting http://www.ronjonesproductions.com
You can also e-mail the producers of the show: Tony Pretzello at: tony@suite108.com and Jakob Nielsen at: jakob@suite108.com

If you are an artist and you would like to be featured on the show please read: How To Get On The Show