When I think
of Christmas

Chris Bennett

Live in Berlin

Until The
End of Time

Less is More
Click here
for samples of Chris Bennetts music
http://www.chrisbennett.com/cds.php

Chris Bennett sings some of her favorite Christmas songs as well as writing some of her own like: "Last Christmas," "Christmas is...," and "It Wouldn't Be Christmas," all of which will no doubt become Christmas standards. Chris sings these beautiful songs with passion and memory of her parents, and what Christmas was like for her as a child. This Rhombus Records release is for the child in all of us and the memories we all share of Christmas' past. "When I think of Christmas" is a CD we should all have in our collection and store forever in our hearts.
The title song is written by two-time Academy Award winner Al Kasha. This CD also features jazzy versions of "Santa Baby", "Do You Hear What I Hear", "Santa Claus Is Coming To Town", and a new novelty song by Peter Matz and Pamela Phillips-Oland, "Santa Claus Forgot".
Chris brings what Jazz Times describes as "her quietly cool, nearly vibrato-less alto voice" to standards like "White Christmas" and "A Child Is Born", as well as her own originals like the heartbreaking "Last Christmas". This CD will put listeners in the Christmas Spirit!
"A versatile singer whose spine-tingling voice generates soft power." - Scott Yanow, L.A. Times
With her lustrous vocal tone and finely evolved musicality, jazz vocalist Chris Bennett can make a melody shimmer from within. Add samba, salsa and the sophisticated soul of the West Coast's most distinguished Latin musicians to the mix and it's an intoxicating alchemy; rendered to sublime effect on Bennett's Rhombus Records release, "Until The End of Time".
As an interpreter of songs, Bennett makes delightfully unexpected choices like the Bill Withers classic "Use Me," fired up with salsa-inspired piano, trombones tropical, and explosive timbales. Bennett renders Brazilian master Antonio Carlos Jobim's "Someone to Light Up My Life," with an understated grace, her impeccable phrasing shadowed by guest saxophonist Eric Marienthal. A masterful songwriter, Bennett draws subtle erotic dramas and intriguing rendezvous in the title track, "Until The End of Time," and "On A Summer Night." Producer Alec Milstein (formerly of the Jeff Lorber band) expertly guides Bennett as she breezes through the sophisticated, airy melody of "Hopeless Case," then ignites a party in the jubilant "Faster Than Expected."
Born in Illinois, Bennett grew up in a home with a reverence for music. "I could get out of any household chore just by practicing piano," she recalls. From her father, she absorbed the sounds of Ella Fitzgerald, Louis Armstrong and big bands while Broadway cast albums fueled her theatrical ambitions. While still in high school, she opened her own dance studio and at the University of Illinois majored in dance with a music minor. At graduate school in California she discovered singing. A gig with television star Jim Nabors brought her to Las Vegas. Most significantly, she also fell passionately in love with the art of writing songs.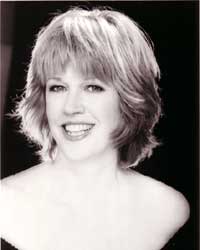 Next, she travelled the word as a vocalist, headlining in such exotic locales as Bangkok, Bali, Tokyo and Tahiti, finally arriving in Germany when disco was at its zenith. Bennett signed with one of the genre's prime architects -- Giorgio Moroder -- recorded dance hits with The Munich Machine and even backed up Donna Summer. She learned fluent German and landed leading acting roles. But, she relates, "I missed America."
Back in the U.S. Chris' songwriting began to pay off. She co-wrote the Grammy-nominated "Theme to Midnight Express" and a diverse roster of artists -- from Manhattan Transfer to Tina Turner -- recorded her songs. She also was instrumental in writing with and encouraging the career of the young Grammy-award winning blues singer, Keb Mo. Bennett's recording career blossomed with a string of albums, beginning with her self-titled debut Chris Bennett in 1993; then Less Is More (1997) and the triumphant Live In Berlin (1999) which captured the vocalist's inspired rapport with a live audience.
Today, Bennett, an accomplished pianist, composes with a close coterie of female co-writers, including Cynthia Tarr and Renee Lee Tener. "I usually write songs with women," professes Bennett. " I like to work with people who are really poets to create lyrics with a little edge; not 'poor me' -- not necessarily tough -- but thought-provoking, with energy. I do my best creativity in solitude when I'm not trying to prove anything. I create without preconceived notions. I like to sit down and see what comes out." Bennett returns annually to Europe for headlining performances in Germany and appearances at festivals across the continent. She marvels at the reverence her European audiences reserve for the art form that is jazz. "They don't blend drinks during your ballads," she laughs.
Making her home blocks from the Pacific Ocean in Venice, California, Chris has become a yoga devotee, even combining it with music to create the sound track and songs for Yoga Kids, a recent home video hit. "It's a nice balance to the 'me me me' egocentric music industry, she says. "It's made me a better singer and it helps put life in perspective."
At this juncture, Bennett's life is equal parts accomplishment and progression. Her career is a course mapped by openness and a pronounced zeal for continuing adventures. Her life is in her voice: Chris Bennett sings with the clarity of an artist who is communicating from the exact center of her comfort zone, a sonic reflection of a woman who is remarkably comfortable with who she is.
Compact Discs currently available through chrisbennett.com are UNTIL THE END OF TIME (2001), LIVE IN BERLIN (1999), LESS IS MORE (1997), and CHRIS BENNETT (1993).
You can find more information about Chris Bennett by visiting
http://www.chrisbennett.com
and
http://www.rhombus-records.com