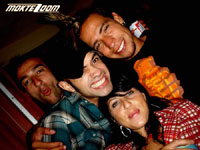 A Band with a different name and alternative to the alternative. Moktezoom is LA's newest eccentric collaboration of alternative music. Their distinguished styles derive from a mixture of early and current pop cultures where ancient meets modern and modern meets history.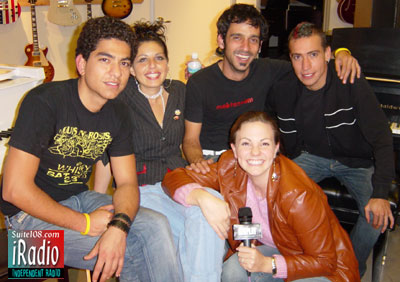 Interview with the band tuesday March 22nd 9.30pm. We met the band at their showcase event at The Gibson Center in Beverly Hills. Link to Gibsons Website.
Click below to listen to our interview with Moktezoom.


WINDOWS
DOWNLOAD
Moktezoom
at The Acafest
in Acapulco 2005
---
The Gibson/Baldwin Showroom in Beverly Hills hosted a showcase for Latin rockers MokteZoom (March 18). The quartet includes members Maria Fernanda Karolis (vocals), Fernando Torreblanca (drums), Michel Denegri (bass) and Luis Torreblanca (guitar), and their latest album, Impossible, rose to the top 20 charts of WRTE Radio in January.

Pictures Courtesy of

Gibson Center

, Beverly Hills